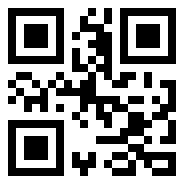 "What is this?" you ask.  "I've been seeing such symbols in so many places recently.  Magazines, newspapers, even on a City bus!"
In answer, the letters "QR" stand for "Quick Response."  To read such a symbol, you need a QR reader on your smartphone.  I went to my 'Iphone App Store' and downloaded one for free.  There were several symbols to choose from and I do not know if one is better than another, but the one I chose works well.  By googling www.Kimtag.com, you will be able to learn more and choose one for yourself.
Linking my QR code, above, to my web page, you can link it to any social media site or webpage.  You can even have a list of places and the user will choose what they want to look at.  The Kimtag website was easy to use and follow along. 
Once you have the app (application) on your iPhone/SmartPhone, you will be able to focus on any such symbol, press your app, and the website for that business will instantly appear.  This is the easiest way I can explain it.  It is easy, quick, and quite innovative.
Sincerely…A. K. Buckroth.