This brief blog regards my dog named Money, not cash-in-hand or monetary concerns.
Adopted in 2008 through a facility in Colorado at eight months old, his original name was "Buddy." At that young age, he was more than willing to be loved, accepted, and happy.  Driving him home to California, his name was changed to "Money."
Due to another family dog, a Bichon Frise name "Picasso" after the infamous painter, use of another infamous and favored painters' name, "Monet," came to mind. Hmm.  "Buddy Monet" or  "Monet Buddy?"  Wanting an attractive name change for selfish reasons, we knew an original name would bestow his belonging to our family.  Therefore, we settled on "Money," "Money Buddy" to be exact.
Before arriving home on this pleasant yet long drive, repetitions of this name became gladly accepted. It fit him well and depicted a fun-loving and original character.
After licensing, chipping, neutering, and veterinarian visits, this black Labrador Retriever/Highlander Newfoundland puppy mix learned manners. For instance, his entering or exiting a doorway was paused to allow a human to enter or exit before him; he sat nicely while his food bowl was prepared or a cookie snack given; through daily walks, he encouraged his owners to exercise.  And the goodness went on.
On first impression, you'd think he was a Labrador Retriever with long hair and long legs. Gosh he was tall!  He ran with the wind and always found me when I hid behind a tree.  His paws were the size of those of a tiger, quite discerning through a wet or muddied print, giving an intimidating impression of his size.  His strength matched his girth at his climaxed adult weight of 104 pounds.  His kind, loving attitude and guard-like behavior matched his size.  There was a lot of love!
Grateful to have the insight to write an illustrated chapter book with Money as a main character, he will live long into infinity.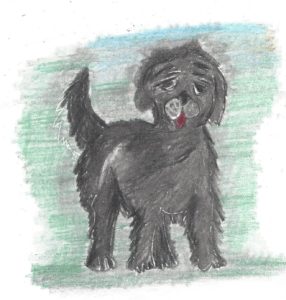 2018 saw a slow but apparent decline in his mobility ̶  dysplasia had sent in.  Oh no!  Comparable to arthritis in humans, this condition is painful.  Veterinarian prescriptions helped ease this scenario for a short time, allowing Money to walk but at a slower pace.  A healthier diet of brown rice, blueberries or a diced apple with diced carrots and fresh meat was also incorporated.  We were looking for a miracle.  However, he slowly became worse.  Experiencing the sight of him in pain, we made the tough decision to have his veterinarian give him peace.  Therefore, December 30, 2018, we said our loving, tender and tearful goodbyes.
Surrounded by his beds, his toys, his jackets, his food and water bowls, these items were laundered, cleaned and given to the Disabled American Veterans thrift store. Copies of Me & My Money… accompanied these treasures.  Money will never be forgotten.
Sincerely, A. K. Buckroth